Way of Life
Community of Love Crucified
The vocation of the Love Crucified Community is to live passionately His love revealed at the Cross. There we receive the gift of His thirst, His gaze, His tears, His radical love which holds nothing back. Now He calls us to respond.
The Lord has given our Community this standard:
" Suffer all with Me, no longer two but ONE, in my sacrifice of love"

As brothers and sisters we enter into a covenant with Christ and with each other to live fully this love in the heart of the Church, according to our spirituality (The Simple Path to Union with God) and mission.

At first, commitments may seem to be a burden, but the Lord promised: "My yoke is easy and my burden is light." -Matthew 11:30. "Sanctity does not consist first of all in doing extraordinary things, but in letting God act" -Pope Francis. God's grace makes this way of life liberating and joyful through love. It disposes us to receive a new life in the power of the Holy Spirit.
​
Our way of life embraces the following commitments:
​
1. Lives centered on the Eucharist
2. Marian Consecration
3. Docility to the Holy Spirit
4. Live The Simple Path to Union with God: Our Spiritual Formation Book
5. Victims of Love + Offering life for others; for priest
6. 5 Stones: Humility, Purity, Simplicity, Trust, Courage
7. Repentance and Conversion
8. Community Life
9. Obedience to Mother Church
10. Fidelity to our state in life
I propose to do ever what is most perfect. I propose to seek in all things Jesus and His Cross, in conformity with His holy will. I propose in my actions to pursue the interests of Christ and not my own. ...I will never be disquieted should circumstances prevent me from observing my 'Rule of life.' I will go on tranquilly. I will be flexible in the face of difficulties, humbly... then onward, ever onward! -Extract from her "Rule of life", Ven. Concepción Cabrera de Armida, Aug 21, 1894
1. Lives Centered on the Eucharist
The Eucharist is Christ, our life, the source and summit of all we are and do.
We seek to participate in Holy Mass daily, if possible.
At Holy Mass we unite with Jesus as His victim souls in His sacrifice of love to the Father. We go to die to self and receive new life in Him. We become living hosts. We offer ourselves with Jesus to the Father after the consecration of the Precious Blood with this prayer.
We commit to a minimum of once a week of adoration before the Blessed Sacrament to listen, adore, praise, intercede, give thanks, and accompany and CONSOLE Jesus and Mary in their suffering for souls.

For their work, prayers and apostolic endeavours, their ordinary married and family life, their daily labour, their mental and physical relaxation, if carried out in the Spirit, and even the hardships of life if patiently borne-all of these become spiritual sacrifices acceptable to God through Jesus Christ (cf. 1 Pt 2:5). During the celebration of the Eucharist these sacrifices are most lovingly offered to the Father along with the Lord's body. Thus as worshipers whose every deed is holy, the lay faithful consecrate the world itself to God. John Paul II
See teaching Fr Jordi Rivero>>
2. Marian Consecration
To come to the most perfect intimate union of love with Christ—victim united to Victim— we need to consecrate ourselves to Mary, Mother and Bride, with the understanding and abandonment that she will bring us to the foot of the Cross. We commit to be forever "Totus Tuus" (All yours).
See "Importance of Consecration" letter from Lourdes Pinto to community>>
33 Days to Morning Glory -Preparation to Marian Consecration. by Fr Michael E. Gaitley, MIC; Marian Press.

Renew our consecration to the Immaculate Heart of Mary

Daily Recitation of the Rosary
​
3. Docility to the Holy Spirit
We live in the Spirit attentive to God and submitting to Him everything we do. We ask of Him in every situation, "Lord what do you want of me?" We trust in the Holy Spirit and invoke Him constantly.
See "Importance of Consecration" letter from Lourdes Pinto to community>>
"Yet there is no greater freedom than that of allowing oneself to be guided by the Holy Spirit, renouncing the attempt to plan and control everything to the last detail, and instead, letting him enlighten, guide and direct us, leading us wherever he wills." Pope Francis p. 13
We welcome the Holy Spirit as our teacher and guide through living the Simple Path. It is He who leads us through the passage -- from the feet of Jesus crucified to receive the gift of self-knowledge, into the Sacred Heart of Jesus and brings us into the unity of the Most Holy Trinity.
​
"God's love has been poured into our hearts through the Holy Spirit which has been given to us" (Rom 5:5). Nevertheless, it is not enough to know the Spirit; we must welcome Him as the guide of our souls, as the "Teacher of the interior life" who introduces us to the Mystery of the Trinity, because He alone can open us up to faith and allow us to live it each day to the full." Pope Benedict XVI, XXXIII World Youth Day, 2008
4. Live The Simple Path to Union with God: Our Spiritual Formation Book
Each Mother of the Cross (MOC) and Missionary of the Cross (MC) must be willing to allow The PATH to lead them through the painful purification and healing of their hearts into the depth of self- knowledge. Each person must persevere to:

Follow Christ daily to the Cross,

To die to self—to what we have become that we are not,

To make ourselves vulnerable and stripped of our masks and false identity

And suffer ALL with Christ, in order to be transformed into Love.

5. Victims of Love
Our life is an offering of love. Our crosses, including the injustices we suffer, as well as the daily duties, are powerful when done with great love and united with Christ. God waits for the FIAT that signals our total surrender. We don't just offer something; we offer ourselves without reserve, our entire being, our will, our heart, our body and soul, one with Him. This is to be with Christ victims of love.
​
It is a victim soul's 'yes' that 'stirs into flame' the power of the Holy Spirit so that the Holy Spirit can lead a docile and willing soul to die with Me. It is this voluntary death that brings the soul to new life…I continue to thirst for love, but it is only the love of My victim souls that satisfies My thirst… Therefore, bring Me many victim souls. 2/1/11 Simple Path #124 p.331
See "Victim of Love" by Fr Jordi Rivero>>
6. 5 Stones: Humility, Purity, Simplicity, Trust and Courage
The MOC and MC must be committed to growing in these five virtues as we persevere in living the Simple Path and taking to heart the teachings of this community.
Virtues Needed as Warriors of Love
My little one, the time draws near. You hold the sword of the Spirit in the mission given to you. My family of LC are My warriors of love that will defeat the dragon in the decisive battle that draws near. Be ready to approach this evil in the same way that David approached Goliath. You will conquer the dragon in your littleness and purity because it is.

God who is with you. You must not fear and believe with the innocence and zeal of David… You each must also approach the battle with five stones.

1. First, the stone of humility, possessing the perfect knowledge of your nothingness and of My power and majesty.
2. Second, the stone of purity, purity of mind, heart, intention, word, desire…
3. Third, simplicity, detached from all, most especially from your ego.
4. Fourth, trust perfectly abandoned to My will.
5. Fifth, courage, courage rooted in love of Me to be perfectly obedient to My commands.

These stones are your weapons for battle, for the dragon will not be defeated according to the standards of the world but in the Light of Love… 1/18/12 Simple Path #148 p. 436

7. Repentance and Conversion
As Love Crucified, we are committed to go daily to the Cross to kiss the feet of Jesus crucified and beg the Spirit for the gift of self-knowledge, so that we can come in truth to know our sins, wounds and disordered tendencies. It is then, through this self-awareness, that we receive the gift of repentance.
​
Repentance is the gift of God that serves to pry open the hardened human heart so that My seeds of conversion can grow. Repentance is the Sword of the Spirit that opens the darkness within the human heart to be filled with God's Light of truth, and the truth sets you free.
To live in repentance is to live clothed in the knowledge of who you are, which is misery, and the knowledge of who I Am, which is Love and Mercy.
To live in repentance is to live in the freedom of living in the embrace of Abba, Our Father.

Tell My souls to seek true repentance at the foot of My Cross and the power of My Love Crucified will set them free to live in My peace and the joy of My promise. 2/18/18
The soul that lives wrapped in the gift of knowledge grows in true humility and is then able to advance in My path on the wings of the Holy Spirit… It is here, at My feet, that you must persevere… 12/12/11 Simple Path #10 p.40. see full message >>
Confession: We are encouraged to go regularly to confession. There is no better way to make progress on our spiritual journey than by returning in humble repentance and love to God's infinite mercy.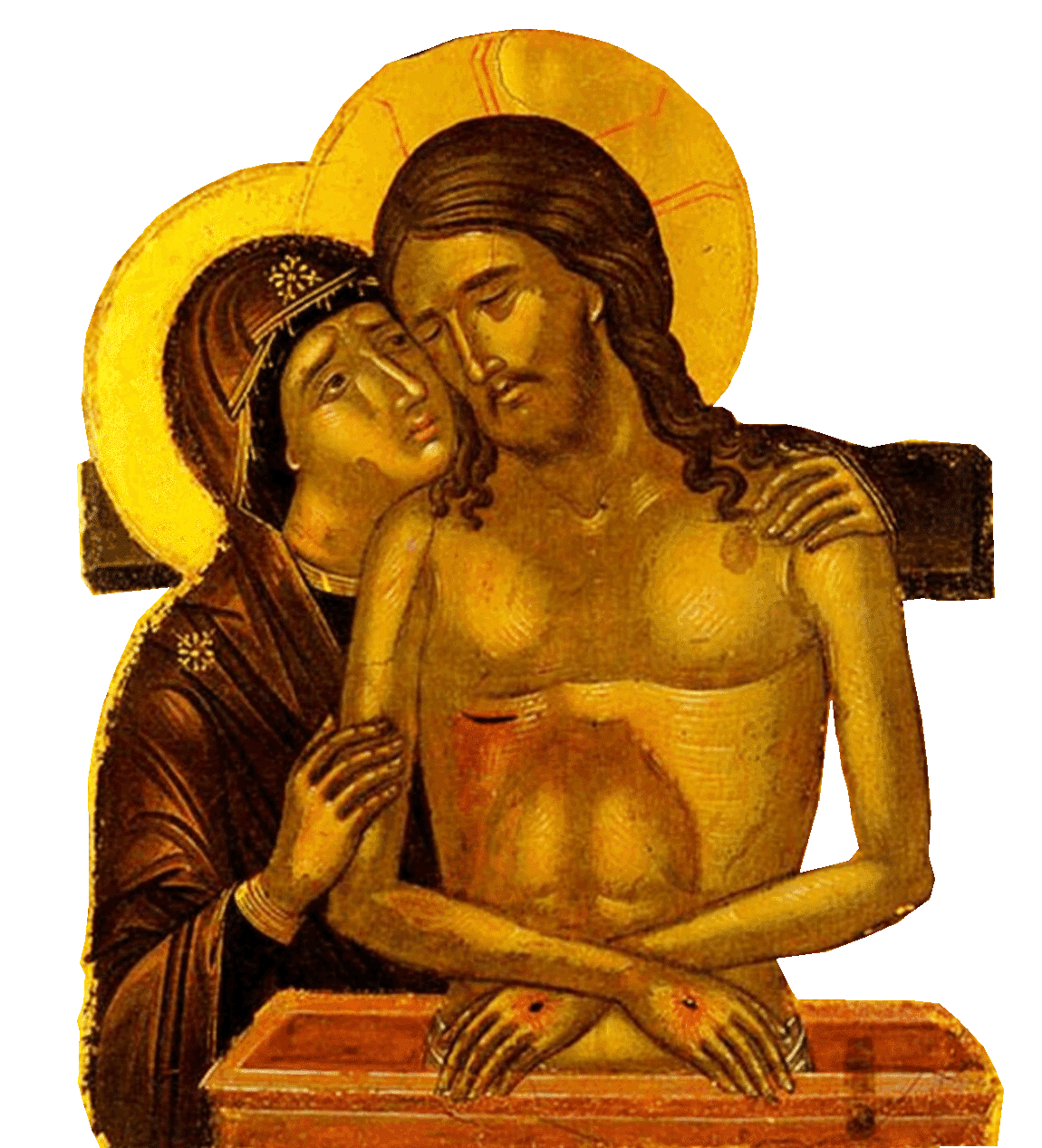 ​
THE HIDDEN LIFE OF A MOTHER OF THE CROSS
HOLDS THE POWER OF GOD
A Trumpet Call From God Forming His Victim Souls for These Decisive Times.
​
⁓⁓ 2016 ⁓⁓
​
​
MAY 2016
​
May
Path, formation manual for My saints of these times
We are making all things new through My Blood and the blood of My victim souls. My little one, believe that the union of love in suffering with God produces one hundredfold. Trust in your beloved Spouse, who is making you a new creation in God and for God. This Path (book) is My Light in the darkness, hope in despair… It is My formation manual for My saints of these times. You (LC) have been entrusted with this treasure from God.
I see the Simple Path inside the heart of each LC member, where it is protected, loved, appreciated, and blessed. We must be the hidden force for every soul that receives the Path to read.
​
JUNE 2016
6/6/16
Warn and prepare My people for the justice of God is upon you
The Kingdom of Heaven is at hand. My Little one, the time of the great upheaval will soon be knocking at your doors. Most are unprepared for this visitation. My prophets of light must warn and prepare My people for the justice of God is upon you.
I stopped writing because of doubt and asked Jesus to give me a confirmation of these words from the Bible. I opened the Bible randomly to Mt 3:1–12, "Repent, for the Kingdom of Heaven is at hand." Mt 3:2
6/16/16
See yourselves as My living monstrances being held up by God to penetrate the darkness of Satan
My little one, the time is here. God has come to visit His people as Justice. I am preparing all those willing to listen to My voice, but the obstinate will perish. You must be willing to suffer all that I permit in your lives as one with Me, and in this way, My hidden martyrs of love will obtain the salvation of many. Believe in the power of your ordinary sorrows lived through Me, with Me, and in Me. This is the triumph of My Eucharistic life. See yourselves as My living monstrances being held up by God to penetrate the darkness of Satan.
6/17/16
God's Lighthouses during the storm
The time has arrived in which My pure victims of love will be lifted up high. Satan will be forced to flee from the Light of God illuminating from these souls. They will be God's lighthouses during the storm.
​
Fr. Donald Calloway writes in Champions of the Rosary:
In union with Christ and with his Church, the message of Fatima invites and reminds us to offer ourselves as victims of incarnational love, victims of expiation for the conversion of humanity. We are to be incarnational love, Christ-bearers even to those who contradict or persecute us. Real love sacrifices, repairs, and creates. Mary, who radiates the light of Christ and is a living monstrance, helps us to become humble, poor, and broken so we can become a living Eucharistic monstrance.
6/24/16
Receive My pain and the thirst of My Divine Love for souls.
Your sorrows and agony of heart are one with My sorrows and agony of heart. Your tears are My tears for our people who have gone astray. I wait, interceding before the throne of the Father and calling forth My victims of love throughout the world, but My time of waiting and mercy has reached its end. Now must come the purification by fire, but the multitudes are unprepared. Believe that your simple hidden life of suffering with Me is saving a multitude of souls. My daughter, remain in the silence of your heart and in prayer, gazing at Me. Receive My pain and the thirst of My Divine Love for souls. Allow My gaze to immerse you in My pain and agony of love for souls (participating with your beloved Spouse so that he is not alone). The hour has come; remain with Me. I bless you, My little one, with My gaze of Divine Love.
June 2016
My home is the domestic Church
I saw interiorly the gaze of my Jesus. How can I describe this gaze? It is impossible, but this is my attempt: In His eyes, I see through His tears an intense pain, but a completely pure pain beyond anything of this world. This pain IS the love of Christ.
From last night's teaching on 1 Peter and Mark 11, the Lord is also showing me that my home is a temple, the domestic Church. I, too, enter my home daily and receive the sin, oppression, and corruption in my family. I must continue, with Jesus, suffering in silence and prayer this agony of love. This is a unique and intimate union with my Beloved. This work, my interior martyrdom, is only meant to be lived between Jesus and me. I must learn to live this intimacy with Him, resisting the temptation to share with others. I also must wait for the right time, as the Spirit moves me, to confront the darkness. Then I must speak, but always with love, tenderness, and patience. After I speak, as Jesus teaches us in the Gospel, I must retrieve again and let go of all control, believing that God's miracle WILL come.
​
6/27/16
The Path is My formation for the saints of these decisive times
The Lord of heaven and earth cries tears for Daughter Zion. She, more precious than gold, has defiled herself, making herself unfit for the King of Kings. Therefore, God, in His infinite mercy, is coming as Justice to purify all that has been defiled. Prepare My people for this purification by fire.
–"My Lord, how do we do this?"
By living and becoming My Path – then you become My heralds of hope, for the Kingdom of Heaven is at hand. The Path is My formation for the saints of these decisive times, preparing the path for My Second Coming. Do not be afraid to proclaim from the housetops the words I speak in the recesses of your heart, for those who have pure hearts will hear My voice and follow Me, but the obstinate will perish.
–My Lord, you told me that we could bring back to life the dead. Please, you are God, pierce also the hearts of the obstinate.
It is your willingness to persevere in suffering with Me that has the power to pierce these souls. Remain steadfast in all that I have taught you.
6/28/16
The power of Love in victim souls
1 Peter 4:8
Above all, let your love for one another be INTENSE because love covers a multitude of sins.
James 5:20
He should know that whoever brings back a sinner from the error of his way will save his soul from death and will cover a multitude of sins.
Proverbs 10:12
Hatred stirs up disputes, but love covers all offenses.
1 Corinthians 13: 4–7
Love is patient, kind
Love is not jealous, pompous, inflated, rude
Love does not seek its own interests, is not quick-tempered, does not brood over injury nor rejoices over wrongdoing but rejoices with the truth.
Love bears, believes, hopes, endures all things
​
When we give our fiat to Jesus to be His victim souls and make our covenant with God through the oblation of our lives, we are giving God something that we didn't have to give. We are freely giving Him our will, our all. This act of love draws us into the Eucharistic life of Jesus to actively participate with Him in the salvation and transformation of souls. As we choose daily to suffer ALL with Jesus, to bear, believe, hope, and endure all things, we live in Jesus' perfect act of love in the Eucharist. Because we are living in Christ, in Love, the multitude of our sins are covered by Christ, and Abba only sees His Son—our sins are blotted from the sight of God.
6/29/16
Victim souls save dead hearts
Jesus, through His gaze, brings me into His agony of love for souls. He said that "He is making all things new," but many souls are in danger of being lost for all eternity. It is these souls He cries for. The illumination will come, but I understood that many souls whose hearts are obstinate will not convert and repent even through this great grace from God. Jesus said that His victim souls have the power of God to prepare these souls for the illumination. He told me that some of these souls in danger of being lost are in my territory of souls.
Mary, please help me to live in the intensity of Christ's Love for the salvation of souls. Amen.
​
JULY 2016
7/9/16
MY VOCATION
I have entered a greater fullness of my vocation as a MOC – it is to accompany my Beloved Spouse in His sorrows of Heart for souls. This is my call to perfect love – to remain immersed in the pains of the Sacred and Immaculate Hearts. Hosea 11 says, "My heart is overwhelmed, my pity is stirred." The heart of my God is overwhelmed with sorrows, for His Bride has defiled herself and turned away from her God. Jesus says to me, "The Lord of heaven and earth cries tears." Love moves me to remain with Him, gazing into His eyes filled with tears. These past two weeks, I have lived in a union of sorrows with my Jesus, a union that can only be lived in the silence of the Holy Spirit with Mary. A bond of love so strong that it doesn't permit the sharing of this experience with others, for then the bond would somewhat be weakened. I feel more and more the life of a cloistered. I have found my vocation! My life has truly become the white towel Mary used to soak up the Blood of her Spouse, Son. I, too, seem to receive the sins, wounds, brokenness, and oppressions of souls all around me. They bring me into this profound intimacy of suffering my Lord's sorrows with Him. At times, I question my vocation—Is this truly God's will for me to feel constant sorrow in my heart? Exteriorly, I seem to function well in my state of life, with a smile on my face, even though, at times, the pain is so intense that it becomes difficult. Am I deceiving myself? Yet, I don't think so; I feel I have finally entered the life of a victim of love. Love moves me to remain with my Beloved, to accompany Him in His agony of love.
7/12/16
Today I ponder the words from our Path p. 140: "VIOLENCE OF SORROW" from St Bernard.
Mary made hers the pain of her Son and lived with Him in the Father's Will. This obedience brought forth great FRUIT.
The Lord desires for me to remain more united to His pain, for many souls are in danger of being lost. Isaiah 7:9 says, "Unless our faith is firm, we will not be firm." The storm is here and strengthening, and most souls have their houses built on sand. They are in danger of crumbling. Love moves me to CONSTANT INTERCESSION with Him before the throne of Abba.
7/12/16
The first purification by fire is at hand
My little one, the first purification by fire is at hand. The multitudes are not prepared, for they have turned away from Me to pursue the passions of the flesh. It is time for My little mustard seed to enter Gethsemane with Me, to suffer with Me My agony for souls. I wish you to warn My mustard seed about what is to happen. Pray, pray, pray, united to Me and Mary.
Be at peace, for the Kingdom of Heaven is already yours. The first purification by fire will leave many desolate, for My bride must lose all that she has defiled herself with. Satan will use this time to snatch the obstinate into his camp, but My victims of love will defeat his plan through the power of God's love that is with them. Be ready in the bosom of God, in perfect peace and hope, for the first purification I am warning you about. Remain recollected and in prayer.
​
7/25/16
Message to the Community of LC
My Heart pulsates with the agony of God, for My people have abandoned Me. The sorrow of God is also His infinite love for each and every soul. Every soul was created by God and for God for all eternity, but the vast majority of souls are being lost for all eternity. My Sacred Heart is in anguish with the Immaculate Heart of Mary. We seek victim souls to love in suffering with us to obtain the grace of salvation for many, but few respond. My little mustard seed, will you suffer more with Me for the salvation of souls? Will you give your fiat, like Mary, and persevere in suffering all that I permit in your lives as one with Love for the salvation of many souls? To possess My Heart is to possess My desire for the salvation of souls. Love moved Me to lay down My life as a ransom for many. My Bride, the Body of Christ, is created to love with Me as you lay down your lives solely to save souls. This is the power of God in the world. Do not grow weary of suffering with Me to save a multitude of souls from the fires of Gehenna. Your vocation to love is to embrace all sufferings and sorrows as one in My sacrifice of love. Live with greater zeal who you are in Me.
​
July/––/ 2016
Can you drink from My chalice?
Psalm 126 "Those who sow in tears shall reap rejoicing."
Mt 20:22 "Can you drink the chalice that I am going to drink?"
Mt 20:28 "The Son of Man came to give his life as a ransom for many."
Jeremiah 14:17 "Let my eyes stream with tears day and night, without rest, over the great destruction which overwhelms the virgin daughter of my people, over her incurable wound."
Jesus asks, "Can you drink the chalice that I am going to drink?" Then he goes on to tell His apostles what that chalice is: "The Son of Man came to give his life as a ransom for many." (Mt 20:28). Jesus invites all His followers to drink from His chalice. At every Holy Communion, we drink from His chalice—His Blood. Yet, Love longs for His Bride to share completely in His life of pure love. Love waits for His Bride to respond and to also love as one with Him by laying her life down as a ransom for the salvation of many.
Love Crucified is not an elite community. How much God desires for our community to be overflowing with members whose desire is to be one with the Victim of Love. Yet, few respond and persevere. But the mercy of God is SO GREAT that he uses the few, the ten, to bless and save the multitudes (Genesis 18:32).
VIOLENCE OF SORROWS
I feel called to greater stillness of heart and recollection, to live in the cloister of my heart, the temple of my Bridegroom, suffering with Him His sorrows for a humanity that has gone astray. God permits me to enter the violence of sorrows through my own family. Because of my humanity, I need to suffer in the flesh the sorrows of the Two Hearts; therefore, I receive the intense piercing through the condition of the hearts closest to me. Silence is of the essence to allow the piercings to enter the depth of my heart, which is where my Lord dwells. These violent piercings thrust my heart INTO the Heart of my Lord, and it is in the union of sorrows that I live true marital intimacy with my Spouse.
Our vocation is to SUFFER WITH HIM, to REMAIN WITH HIM accompanying Him in His agony. This is our vocation to LOVE! Interiorly we must live more and more sowing in tears as our hearts receive the thorns, but exteriorly revealing the smile of a beautiful blossom.
​
AUGUST 2016
8/3/16
BIBLE REFLECTION: Storms of faith
Mt. 15: 21–28 "Lord help me."
Mt. 14:22–36 "Command me to come to you on water."
​
Jesus sends His disciples before Him. He permits each of us to "precede Him" and enter a storm of faith, a storm that brings our fears to the surface and challenges us to trust and abandon ourselves to Christ in a new way. During the storm, Jesus comes to the disciples walking on water, but they do not recognize Him. They think he is a ghost.
I pondered before my Lord: "In what ways does Jesus come to me in which I do not recognize Him?" Jesus answered me with these words:
–You fail to recognize me in their brokenness. His brokenness is upon My Body. His brokenness is part of Me; I have taken it upon Myself in order to suffer with him and for him.
I understood that I fail to recognize my Lord in the disorders, sins, and brokenness of those closest to me.
The Holy Spirit moves the heart of Peter with zeal to desire to come to Jesus. To reach Him, he first must get out of the boat – the place of security, his confines, his control, his established barriers. Then he must be willing to trust to do what seems impossible—walk on water—to reach Jesus. His initial zeal for the Lord moves him out of the boat, but then when he takes his eyes off Jesus and experiences upon his body the strength of the winds, he doubts and sinks.
The storms of faith are a grace of God that moves us out of the confines of our comfort zones and the pit of our wounds. Little by little, He moves us to "let go," to complete trust and abandonment, SO THAT through His omnipotence and power, we can do the IMPOSSIBLE in our lives according to His Holy Will.
Fear and doubt, because they are a reaction to a lack of trust and abandonment, act as a barrier that keeps us from becoming one with Jesus, and through Him, with Him and in Him, allowing God to do the impossible – His mighty works and miracles. Therefore, our lifetime journey through the narrow path of the Cross is to come to know our fears and doubts and, with the help of the Holy Spirit, "Lord help me," receive the graces to move through every fear.
To reach union with Christ will require moving out of our safety zones and taking many risks to do what is most difficult for us, what is scariest, what seems most impossible, like walking on water.
The Lord is revealing to me that He is present daily in every person in my life. He is disguised in their brokenness as Jesus crucified—the Jesus hardly recognizable to His disciples in the Garden of Gethsemane. I need to move out of my safety zone to do what is most difficult: love, patience, and kindness, not to be irritable and embrace with affection what feels repulsive to me. I need to see Jesus' gaze in each of them so that I can move out of my self-love to embrace my broken Jesus. The moment my gaze moves away from my crucified Lord, I sink; I sink into myself – into the ocean of my own darkness.
I continued my pondering. What seems to be the ugliest trait in others, that which bothers and repulses me the most? Self-centered people that are caught up in themselves, their own problems, miseries, pains… And we all seem to admire people that are selfless—giving of themselves constantly, attentive with details to others, many times in such hidden ordinary ways. I had to think of my sister, Elena. This is why the Lord has said to me:
–It is through My crucified gaze that you will desire to be One with The Victim of Love, in which you will desire solely the Cross, in which you will desire the salvation of all your brothers and sisters and forget yourself, in which you will receive the power of the Holy Spirit to lay down your life as My sacrifice of love for the salvation of many.
Lk 6:12–19
What happened to the multitudes following Jesus (Luke 6:12-19)? Why weren't they with Him in Calvary? Their reasons for following Jesus were still self-centered (See: Path, Bridging the Gap, pg 130). They were seeking good things such as healing, deliverance, and to touch Jesus. They also followed out of curiosity. But they had not reached the level of the FUSION OF LOVE where one follows SOLELY the Other for love of Him. A love that desires to walk the narrow path of the Cross with Jesus solely to accompany Him so that He is not alone, to participate in what He suffered: discomforts, humiliations, violence, anger, rage, darkness, pain, exhaustion, violent sorrows, abuse, betrayal, abandonment, mockery, murmuring, His thirst, hunger…
The Lord permitted the storm I recently entered to enflame in my heart the fire of the Spirit to desire SOLELY THE CROSS. He calls me to be His companion of Calvary, to remain with Him, to kiss and console Him SOLEY for love of Him. He enflamed my heart with the words of St Paul: "God forbid that I should glory, save in the cross of our Lord Jesus Christ." (Galatians 6:14).
Today I continued this pondering through the words of St Paul: "I drive my body and train it, for fear that, after having preached to others, I myself should be disqualified." (1 Cor 9:27). I have lived these past years with this understanding in my heart that I can teach the Path but not necessarily become the Path. One can preach the Gospel and not become one with the Gospel. As a mother, how easy it can be to preach to my children all the right things, but what really makes an impact in their lives is if they see me living Gospel in my daily ordinary life. These precious storms and sufferings of life need to bring me to see this discrepancy in my life until there is no longer duplicity, nor masks, nor a false identity but ONENESS WITH GOD!
SEPTEMBER 2016
9/22/16
The mission of LC. The Lord is preparing us for the ascent to Golgotha—the crucifixion
The mission of LC has been to call and form victim souls who are God's white army that prepare the way (red carpet) for the reign of the Immaculate Heart of Mary with the new Pentecost. Just as John the Baptist prepared the way, the hearts of the people through the call to repentance, we are preparing the way for the new Pentecost. As hidden victims of love—one with Jesus' Eucharistic life—we are preparing the hearts of the multitudes by obtaining grace for them through the power of the Cross – the power of suffering as one with Jesus' sacrifice of love.
Our mission IS God's "hidden force"—one with the "hidden force" which IS the Eucharist. Our mission requires great TRUST and LOVE (most especially of the Eucharist) because we must "glory only in the Cross of Jesus Christ" (Galatians 6:14). Our JOY and GREATEST DESIRE must be to be unnoticed, unwanted, unappreciated, forgotten, ignored, misunderstood, ridiculed, humiliated, abandoned, rejected, mocked as Jesus in the Eucharist. Our humility, purity, and simplicity are in being NOTHING—the anawims. Therefore, every MC and MOC must ALLOW the Holy Spirit with Mary to purify our desires to be noticed, wanted, sought after, important, successful… Few desire such a mission of life, but what glory awaits the very few that respond!
​



OCTOBER 2016
10/12/16
The Tabernacle door would not open during the LC covenant Mass in Colombia
El sacerdote partió su hostia en 33 pedacitos para que todos comulgaran. Jesus explained:
It was a sign from Heaven of what is to come. You will look for Me in the tabernacles of the world, but they will be shut; I no longer will be there. One Host fed 33 souls. 33 represents Me, My life on earth. At the age of 33, the end of My earthly life, I shed My Blood for you; I am the sacrifice of Love, the sacrifice of God's New Covenant with His people. The triumph of My Eucharistic Life is at hand. You (meaning plural) are My participants in this triumph—one Host, one Body—no longer two but one in My sacrifice of love. Prepare your hearts and minds to shed your blood as ONE sacrifice for the renewal of the world. Seven chalices represent My souls who have allowed Me to empty them and purify them so that they now become God's pure instruments to purify the world. The doors of My mercy are closing. The fury of Satan will be let loose for a short time, but My living hosts will pierce this darkness and usher in the reign of the Immaculate Heart of My Mother with a new Pentecost. Prepare by living as one Body with Me, and you will be in perfect peace during the time of great darkness.
​



NOVEMBER 2016
​
11/25/16
I will make Myself known to every soul
During prayer, our Lord asked me to read Mathew 14:26:
But when the disciples saw him walking on the sea, they were terrified, saying, "It is a ghost!" And they cried out for fear.
Then Jesus spoke these words:
I am coming in an unexpected way at an unexpected time. It will be during the time of great suffering. My people will be in panic, terrified. I will come, sent by God, to make myself known to every soul. Many will panic and remain in disbelief, but others, through the mercy of God and the prayers of My hidden victims of love, will believe and repent. Do not be afraid during the time of terror, for the mercy of God will penetrate the world with His Light. In His Light, all will be revealed; all that is hidden will come to the light; all deception will be exposed; even the demons will be exposed. All will be seen in the Light of God. I need My little victim souls to continue to prepare hearts for this end time of God's mercy. Persevere in all that I have taught you. Do not be afraid to suffer ALL with Me to prepare the multitudes for this outpouring of God's grace.
DECEMBER 2016
12/12/16
Basilica of Guadalupe in Mexico. Given by our Blessed Mother before the midnight Mass:
​
Fr Jordi and Fr Ron concelebrated the Midnight Mass on the vigil of the feast of Our Lady of Guadalupe. Deacon Edgar was also at the altar. All the MOC and Daniel went, but we had no assigned seats in the Basilica, so we thought we would have to stand outside. To our surprise, through a connection Edgar made with a priest of the Basilica, we ended up sitting almost in front of the altar. This was another gift from our Blessed Mother to our LC community!
My beloved, I have brought you before me to receive the fullness of the blessing God desires to give you, faithful spouse of my Son Jesus Christ, and to my family of LC. Receive my tears of joy; joy for your fiat united to mine; joy for your faithfulness to live united as One Body to the Holy Sacrifice of my Son. Receive the crown of glory reserved for the martyrs of Christ's love. Do not be afraid during the time of the great trial that must come upon the world, for I am with you. You have followed me to the altar of sacrifice. It is here in the perfect sacrifice of the Mass that I am forming you as God's holy warriors of love to fight the final battle. Remain with me in the perfect Sacrifice of my Son, and you will receive the crown of glory. I bless you, my little one, with the kiss of Abba as He seals your heart with the mission given to you for the glory of God and the salvation of many souls.
​
End of 2016