Way of Life
Community of Love Crucified
The vocation of the Love Crucified Community is to live passionately His love revealed at the Cross. There we receive the gift of His thirst, His gaze, His tears, His radical love which holds nothing back. Now He calls us to respond.
The Lord has given our Community this standard:
" Suffer all with Me, no longer two but ONE, in my sacrifice of love"

As brothers and sisters we enter into a covenant with Christ and with each other to live fully this love in the heart of the Church, according to our spirituality (The Simple Path to Union with God) and mission.

At first, commitments may seem to be a burden, but the Lord promised: "My yoke is easy and my burden is light." -Matthew 11:30. "Sanctity does not consist first of all in doing extraordinary things, but in letting God act" -Pope Francis. God's grace makes this way of life liberating and joyful through love. It disposes us to receive a new life in the power of the Holy Spirit.
​
Our way of life embraces the following commitments:
​
1. Lives centered on the Eucharist
2. Marian Consecration
3. Docility to the Holy Spirit
4. Live The Simple Path to Union with God: Our Spiritual Formation Book
5. Victims of Love + Offering life for others; for priest
6. 5 Stones: Humility, Purity, Simplicity, Trust, Courage
7. Repentance and Conversion
8. Community Life
9. Obedience to Mother Church
10. Fidelity to our state in life
I propose to do ever what is most perfect. I propose to seek in all things Jesus and His Cross, in conformity with His holy will. I propose in my actions to pursue the interests of Christ and not my own. ...I will never be disquieted should circumstances prevent me from observing my 'Rule of life.' I will go on tranquilly. I will be flexible in the face of difficulties, humbly... then onward, ever onward! -Extract from her "Rule of life", Ven. Concepción Cabrera de Armida, Aug 21, 1894
1. Lives Centered on the Eucharist
The Eucharist is Christ, our life, the source and summit of all we are and do.
We seek to participate in Holy Mass daily, if possible.
At Holy Mass we unite with Jesus as His victim souls in His sacrifice of love to the Father. We go to die to self and receive new life in Him. We become living hosts. We offer ourselves with Jesus to the Father after the consecration of the Precious Blood with this prayer.
We commit to a minimum of once a week of adoration before the Blessed Sacrament to listen, adore, praise, intercede, give thanks, and accompany and CONSOLE Jesus and Mary in their suffering for souls.

For their work, prayers and apostolic endeavours, their ordinary married and family life, their daily labour, their mental and physical relaxation, if carried out in the Spirit, and even the hardships of life if patiently borne-all of these become spiritual sacrifices acceptable to God through Jesus Christ (cf. 1 Pt 2:5). During the celebration of the Eucharist these sacrifices are most lovingly offered to the Father along with the Lord's body. Thus as worshipers whose every deed is holy, the lay faithful consecrate the world itself to God. John Paul II
See teaching Fr Jordi Rivero>>
2. Marian Consecration
To come to the most perfect intimate union of love with Christ—victim united to Victim— we need to consecrate ourselves to Mary, Mother and Bride, with the understanding and abandonment that she will bring us to the foot of the Cross. We commit to be forever "Totus Tuus" (All yours).
See "Importance of Consecration" letter from Lourdes Pinto to community>>
33 Days to Morning Glory -Preparation to Marian Consecration. by Fr Michael E. Gaitley, MIC; Marian Press.

Renew our consecration to the Immaculate Heart of Mary

Daily Recitation of the Rosary
​
3. Docility to the Holy Spirit
We live in the Spirit attentive to God and submitting to Him everything we do. We ask of Him in every situation, "Lord what do you want of me?" We trust in the Holy Spirit and invoke Him constantly.
See "Importance of Consecration" letter from Lourdes Pinto to community>>
"Yet there is no greater freedom than that of allowing oneself to be guided by the Holy Spirit, renouncing the attempt to plan and control everything to the last detail, and instead, letting him enlighten, guide and direct us, leading us wherever he wills." Pope Francis p. 13
We welcome the Holy Spirit as our teacher and guide through living the Simple Path. It is He who leads us through the passage -- from the feet of Jesus crucified to receive the gift of self-knowledge, into the Sacred Heart of Jesus and brings us into the unity of the Most Holy Trinity.
​
"God's love has been poured into our hearts through the Holy Spirit which has been given to us" (Rom 5:5). Nevertheless, it is not enough to know the Spirit; we must welcome Him as the guide of our souls, as the "Teacher of the interior life" who introduces us to the Mystery of the Trinity, because He alone can open us up to faith and allow us to live it each day to the full." Pope Benedict XVI, XXXIII World Youth Day, 2008
4. Live The Simple Path to Union with God: Our Spiritual Formation Book
Each Mother of the Cross (MOC) and Missionary of the Cross (MC) must be willing to allow The PATH to lead them through the painful purification and healing of their hearts into the depth of self- knowledge. Each person must persevere to:

Follow Christ daily to the Cross,

To die to self—to what we have become that we are not,

To make ourselves vulnerable and stripped of our masks and false identity

And suffer ALL with Christ, in order to be transformed into Love.

5. Victims of Love
Our life is an offering of love. Our crosses, including the injustices we suffer, as well as the daily duties, are powerful when done with great love and united with Christ. God waits for the FIAT that signals our total surrender. We don't just offer something; we offer ourselves without reserve, our entire being, our will, our heart, our body and soul, one with Him. This is to be with Christ victims of love.
​
It is a victim soul's 'yes' that 'stirs into flame' the power of the Holy Spirit so that the Holy Spirit can lead a docile and willing soul to die with Me. It is this voluntary death that brings the soul to new life…I continue to thirst for love, but it is only the love of My victim souls that satisfies My thirst… Therefore, bring Me many victim souls. 2/1/11 Simple Path #124 p.331
See "Victim of Love" by Fr Jordi Rivero>>
6. 5 Stones: Humility, Purity, Simplicity, Trust and Courage
The MOC and MC must be committed to growing in these five virtues as we persevere in living the Simple Path and taking to heart the teachings of this community.
Virtues Needed as Warriors of Love
My little one, the time draws near. You hold the sword of the Spirit in the mission given to you. My family of LC are My warriors of love that will defeat the dragon in the decisive battle that draws near. Be ready to approach this evil in the same way that David approached Goliath. You will conquer the dragon in your littleness and purity because it is.

God who is with you. You must not fear and believe with the innocence and zeal of David… You each must also approach the battle with five stones.

1. First, the stone of humility, possessing the perfect knowledge of your nothingness and of My power and majesty.
2. Second, the stone of purity, purity of mind, heart, intention, word, desire…
3. Third, simplicity, detached from all, most especially from your ego.
4. Fourth, trust perfectly abandoned to My will.
5. Fifth, courage, courage rooted in love of Me to be perfectly obedient to My commands.

These stones are your weapons for battle, for the dragon will not be defeated according to the standards of the world but in the Light of Love… 1/18/12 Simple Path #148 p. 436

7. Repentance and Conversion
As Love Crucified, we are committed to go daily to the Cross to kiss the feet of Jesus crucified and beg the Spirit for the gift of self-knowledge, so that we can come in truth to know our sins, wounds and disordered tendencies. It is then, through this self-awareness, that we receive the gift of repentance.
​
Repentance is the gift of God that serves to pry open the hardened human heart so that My seeds of conversion can grow. Repentance is the Sword of the Spirit that opens the darkness within the human heart to be filled with God's Light of truth, and the truth sets you free.
To live in repentance is to live clothed in the knowledge of who you are, which is misery, and the knowledge of who I Am, which is Love and Mercy.
To live in repentance is to live in the freedom of living in the embrace of Abba, Our Father.

Tell My souls to seek true repentance at the foot of My Cross and the power of My Love Crucified will set them free to live in My peace and the joy of My promise. 2/18/18
The soul that lives wrapped in the gift of knowledge grows in true humility and is then able to advance in My path on the wings of the Holy Spirit… It is here, at My feet, that you must persevere… 12/12/11 Simple Path #10 p.40. see full message >>
Confession: We are encouraged to go regularly to confession. There is no better way to make progress on our spiritual journey than by returning in humble repentance and love to God's infinite mercy.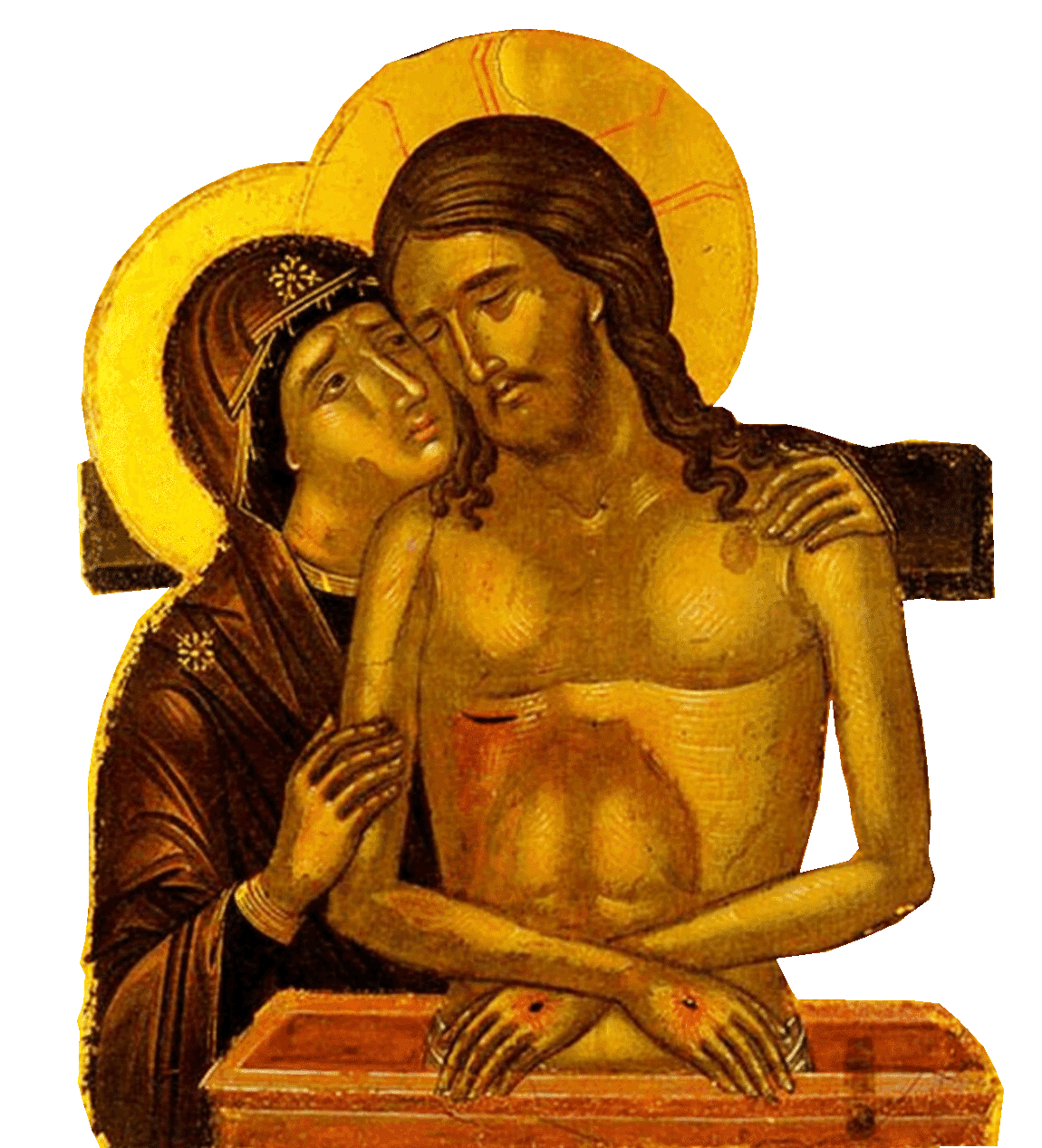 Community
Fr. Jordi, 2012
What is community.

Many meanings

In NT, it is the communion of members of the Body of Christ

baptismal vocation to holiness.

To live Gospel, to be more effective witnesses.

All from the Jesus through the Church

mediated through community.


Holy Scripture presupposes community.

Live according to the Gospel and in the power of the Holy Spirit.

Acts,

"Encourage each other daily while it is still today" -Hebrews 3:13

"Encourage one another and build one another up" -1 Thessalonians 5:11


The Lord renews the Church through men and women who seek to renew themselves in the Spirit. To live the Gospel, To be more effective witnesses.

Form communities.

Different from the world.


John Paul II's support for communities

These communities are a sign of vitality within the Church, an instrument of formation and evangelization, and a solid starting point for a new society based on a 'civilization of love'… They are thus cause for great hope for the life of the Church. —JOHN PAUL II, The Mission of the Redeemer, n. 51

Make yourselves builders of communities in which, after the example of the first community, the Word lives and acts —JOHN PAUL II, Address to Focolare Movement, Rome, May 3, 1986

New communities sign of a springtime.


Covenant community vs a group.

Commitment

Participation in community activities we grow in unity, encourage each other to love and serve and give glory to God.

"And let us consider how to stir up one another to love and good works, not neglecting to meet together, as is the habit of some, but encouraging one another." -Hebrews 10:24-25

St. Ignatius of Antioch "Try to gather together more frequently to give thanks to God and to praise him. For when you come together frequently, Satan's powers are undermined, and the destruction he threatens is done away with in the unanimity of your faith. Nothing is better than peace, in which all warfare between heaven and earth is brought to an end." —a letter to the Ephesians by Saint Ignatius of Antioch, bishop and martyr, Liturgy of the Hours, Volume I

Cenacles are the community's weekly gathering to pray, worship and fellowship.

Where Holy Spirit guides, heals, speaks, instructs and moves freely.

We are open to the gifts of the Holy Spirit, including words of knowledge, tongues, silence, etc. -Cf. Ef 5,19, Col 3,16-17

Song and praise. "He who sings prays twice" (St. Agustin, cf. Psalm 72,1).
Love

Catechism 953 "Communion in charity. In the sanctorum communio, "None of us lives to himself, and none of us dies to himself." "If one member suffers, all suffer together; if one member is honored, all rejoice together. Now you are the body of Christ and individually members of it."


Many seek community to satisfy a natural need for love, according to the world.

St Leo the Great: Even the most intimate bonds of friendship and the closest affinity of minds cannot truly lay claim to this peace if they are not in agreement with the will of God. -office Monday XXIII

confuse love with pampering the flesh.

But community is meant to purify us. Loving one another is only possible if we are willing to suffer one another as Jesus suffered for us.

"We follow our Lord in readiness to spend our life for our brothers (cf. 1 John 3:16), becoming messengers of a joy that does not fear pain, the joy of the Resurrection. -Benedict XVI>>

Community should be a witness of the love that Christ commanded. To love all, not as we may choose, but as He has loved us, that is with a crucified love. "This is my commandment, that you love one another as I have loved you. -Jn 15:12.

St. Faustina "Jesus, I thank You for the little daily crosses, for opposition to my endeavors, for the hardships of communal life, for the misinterpretation of my intentions, for humiliations at the hands of others, for the harsh way in which we are treated, for false suspicions, for poor health and loss of strength, for self-denial, for dying to myself, for lack of recognition in everything, for the upsetting of all my plans."

Love lived in community radiates to those outside. As organs serve the body,

Welcome others called to community

Be an Ark of the New Covenant. The Immaculate Heart.

Padre Pio, Re: his Spiritual Children: "'I love my Spiritual Children as much as my own soul and even more.' 'Once I take a soul on, I also take on their entire family as my spiritual children.' 'To my Spiritual Children, my prayers for you will never be lacking.' 'If one of my spiritual children ever goes astray, I shall leave my flock and seek him out.'

Fidelity

"It is not an idea or a strategy that unites us but love of Christ and his Holy Spirit. The effectiveness of our service to the Church, the Bride of Christ, depends essentially on this, on our fidelity to the divine kingship of CRUCIFIED LOVE" - Benedict XVI>>

Strength not based on numbers but in fidelity to the Lord.

Attentive to His action. How did you begin? What is your history? Whom have I raised up to help in this task?

Like Israelites, like the Apostles, we forget God's actions and revert to our old ways.

What has the Lord taught us? What has he placed in our hearts? Persevere. Remnant.

Sustained by prayer

Benedict XVI, April 18, 20102 "In a meditation of the 4th chapter of the Acts of the Apostles, and the story of how Sts. Peter and John were arrested, the Pope observed that the early Christian community was sustained by unity in prayer. Prayer was "the fundamental element of the first community and should always be fundamental to the Church," he said.

Facing persecution, the disciples of Christ recognized that the threat to Peter and John was a threat to their entire community, the Pope said. "In suffering persecution for Jesus' sake, the community not only did not give way to fear and division, but was profoundly united in prayer." The Pontiff went on to observe that the disciples did not pray to be spared from persecution, but only to be allowed to continue spreading the Gospel.
safa
In their prayer the earliest Christians were completed united, the Pope said. He remarked that "unity is consolidated rather than undermined, because it is supported by unshakeable prayer." The Church should not fear opposition or persecution, he said, but trust steadily in God's power.
The disciples sought God's help, the Pope said, because "they wanted to become a force for the transformation of reality, changing the hearts, minds and lives of men and bringing the radical novelty of the Gospel."